Leadership & Management Training
Practical Management Training
At Kennedy Ross, we believe in straightforward management solutions, designed with you in mind. Therefore, we provide bespoke one-day, leadership training programmes, designed to improve your leadership skills. We base the day on your challenges and show you how to diagnose staff problems and apply the correct behaviours to increase motivation and job satisfaction.
Why Do I Need Leadership Training?
Management and leadership development programmes are key to preparing your line managers and developing future leaders.
Ask yourself this: "What rationale am I using to underpin my management behaviours?" If your answer, like most of our clients, is none then answer this: "how do you know you're delivering the right behaviours at the right time?"
Interestingly, if you review your business strategies, you'll find they are underpinned with rationale, accreditation and supported by associations. So, why is people management not treated with the same importance?
Why Choose Kennedy Ross?
We have worked with an array of businesses that share similar problems with managing people. As a result, we created a dynamic and effective 'one day' training course. This training updates your skills and supports you in managing the most difficult workplace variable to control, people. Our managerial training only lasts one day to work around your busy schedule.
Our development courses are run by leaders who have managed people in SME's and large scale operations. Consequently, knowledge is relevant and training is practical and easy to implement.
What Does Leadership Training Offer?
Advice
The management course offers tips on:
Side-by-side training
Meetings
Weekly and monthly one to ones.
Incentives and consequences
Performance management
This bespoke b2b management course is delivered to your management challenges and goals
Ongoing Support.
Dynamic Sales Managers need dynamic support. Therefore, we provide exactly that via scheduled phone, Skype and conference calls. We also attend and support monthly performance counselling and skill based one to ones.
To become a more effective leader, contact our team and start your leadership training journey.
For more information on Leadership and Management Training, please complete our contact form:
Situational Leadership
"Managers aren't born, they're trained" Ken Blanchard
By understanding where your team member is on the model, you can work out how to manage them.
This will reduce conflict and increase motivation
D represents their development level
S are the behaviours you exhibit to match their development level
Resulting in you having a management rationale to underpin your leadership thinking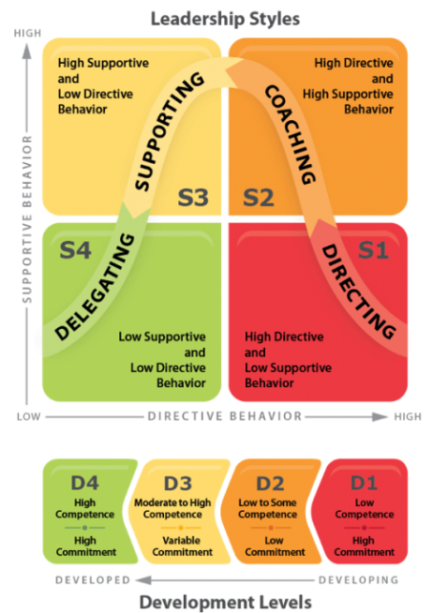 "Recently they came in and delivered a two day management programme with follow up. It has without doubt impacted our staff retention, improved employee morale and ensured our management team are all speaking the same language".
Rich Dyer – Managing Director – Skiddle.Com