Leadership Training in London
Our b2b leadership training in London teaches adaptable skills that allow leaders to become an effective, approachable business leader who thrives in one of the most competitive business industries in the world.
At our leadership training in London, we cover the following:
How to use a common language of leadership
Having quality and quantity conversations
Developing others' self-reliance
Underpinning management thinking with rationale
Why Is Leadership Training Important?
81% of people say their leaders don't listen. Adding to this 82% say their leaders don't provide appropriate feedback. It is shocking figures like this, combined with the fast-moving, competitive business environment in London, that mean leaders, and their respective businesses, can get left behind.
However, being equipped with a range of bespoke, responsive skills can help London businesses boost sales and leadership performance.
Plus, through our bespoke leadership programme, you can create meaningful connections with your employees to overall reduce conflict and boost motivation.
Why Choose Kennedy Ross For Leadership Training In London?
Having held high level leadership positions in London, we understand the positive and negative scenarios affecting leaders in the city. Plus, thanks to our first hand experience, we understand, and know how to deal with, the challenges and rewards that come hand in hand with managing people.
Because of this, our leadership training in London does not just preach what is needed to become a good leader. Instead, our leadership course is interactive and offers a bespoke set of skills that are easy to adapt and implement once you leave the classroom. Consequently, we guarantee that our leadership courses will make you a stronger leader.
To find out more about leadership training in London, contact our consultants today.
Situational Leadership
"Managers aren't born, they're trained" Ken Blanchard
By understanding where your team member is on the model, you can work out how to manage them.
This reduces conflict and increase motivation
D represents their development level
S are the behaviours you exhibit to match their development level
Equips you with a management rationale to underpin your leadership thinking
To find out more about leadership training in London, fill in the contact form below.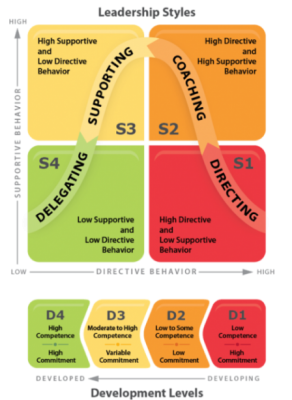 Companies Benefiting From Our B2B Leadership Training Courses
Skiddle
SAL Abrasive Technologies
ReadyFix
Printed Cup Company
RJW Engineering
Packaging Automation Ltd
"Recently they came in and delivered a two day management programme with follow up. It has without doubt impacted our staff retention, improved employee morale and ensured our management team are all speaking the same language".
Rich Dyer – Managing Director – Skiddle.Com